Welcome to The All New Kalispell Ford!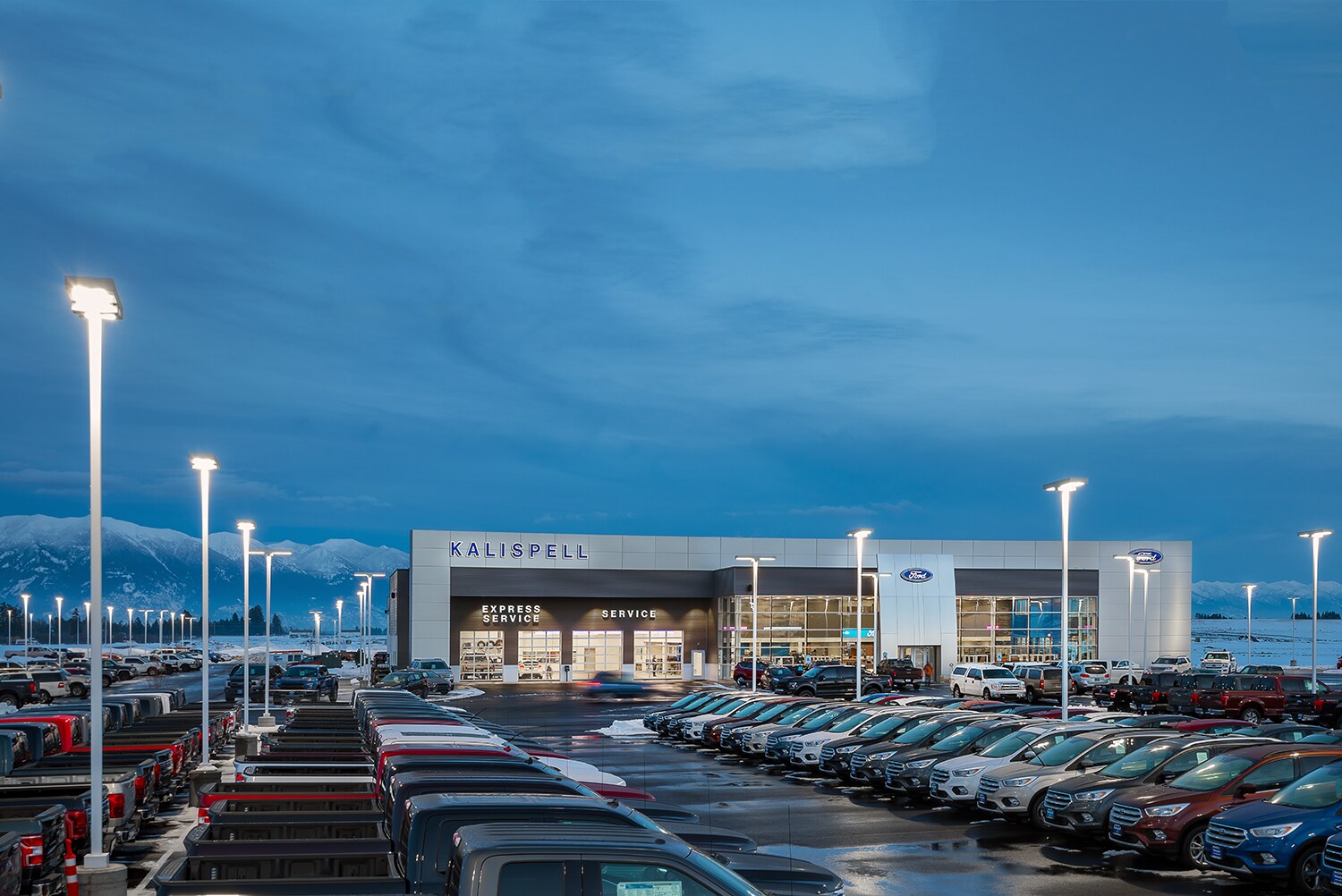 Many changes have happened over the past year, but the thing that has not changed is our attention to you our customer.  The teams at Whitefish Ford and Kalispell Ford have merged into one location at 2000 Rose Crossing in Kalispell, MT.  We are located north of Kalispell near Falkor Defense and the Montana National Guard Center off HWY 93.  Our new home opened in November of 2017 and features a 54,000 square foot building on over 10 acres. 
Our state of the art service department features 26 bays in our main shop and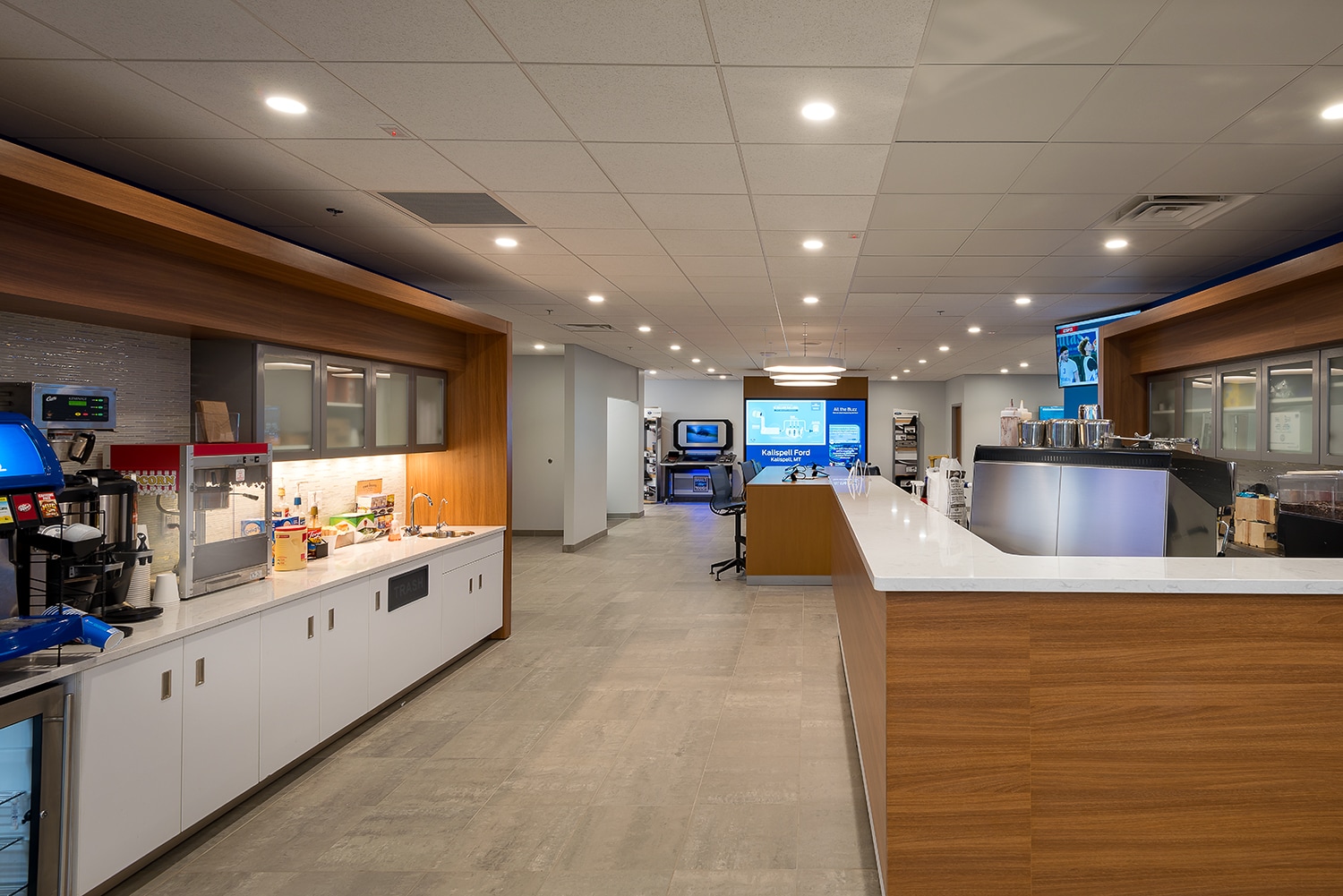 2 quick service bays to get you in and out fast.  We welcome you in to experience our new service department.  While you are in for service, experience our large service reception area that allows you to pull right in out of the heat or cold.  Also, take advantage of our free shuttle service in the Flathead Valley or if you plan to wait check out the Great Escape Coffee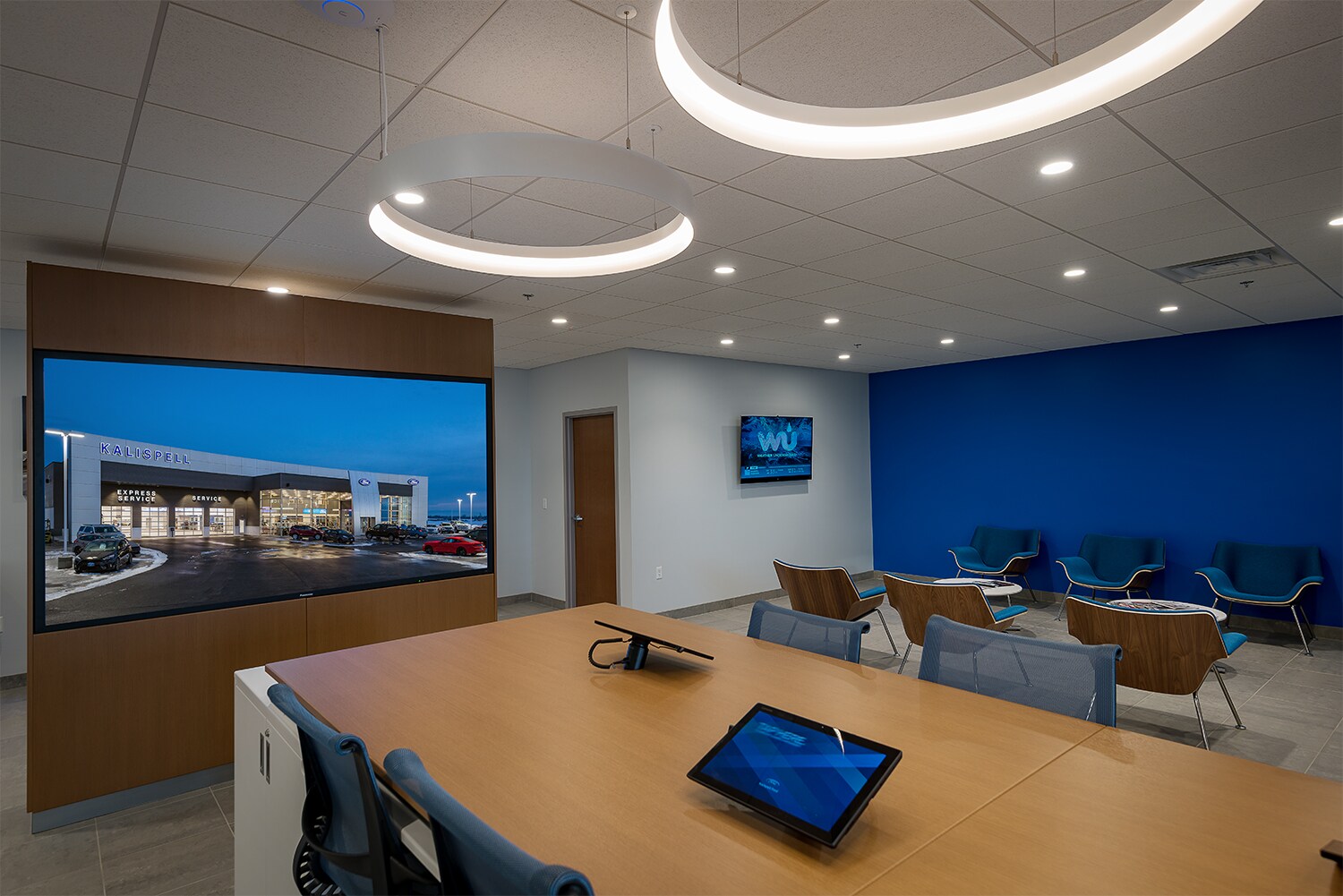 Company inside our dealership for a fresh espresso and other snacks.  Our comfortable waiting areas feature multiple big screen TV's, tablets for you to watch the progress of your vehicle or to catch up on your favorite game or movie, and free drip coffee, Pepsi Fountain Soda, and Popcorn.
The Parts Department that our customers have always wanted is now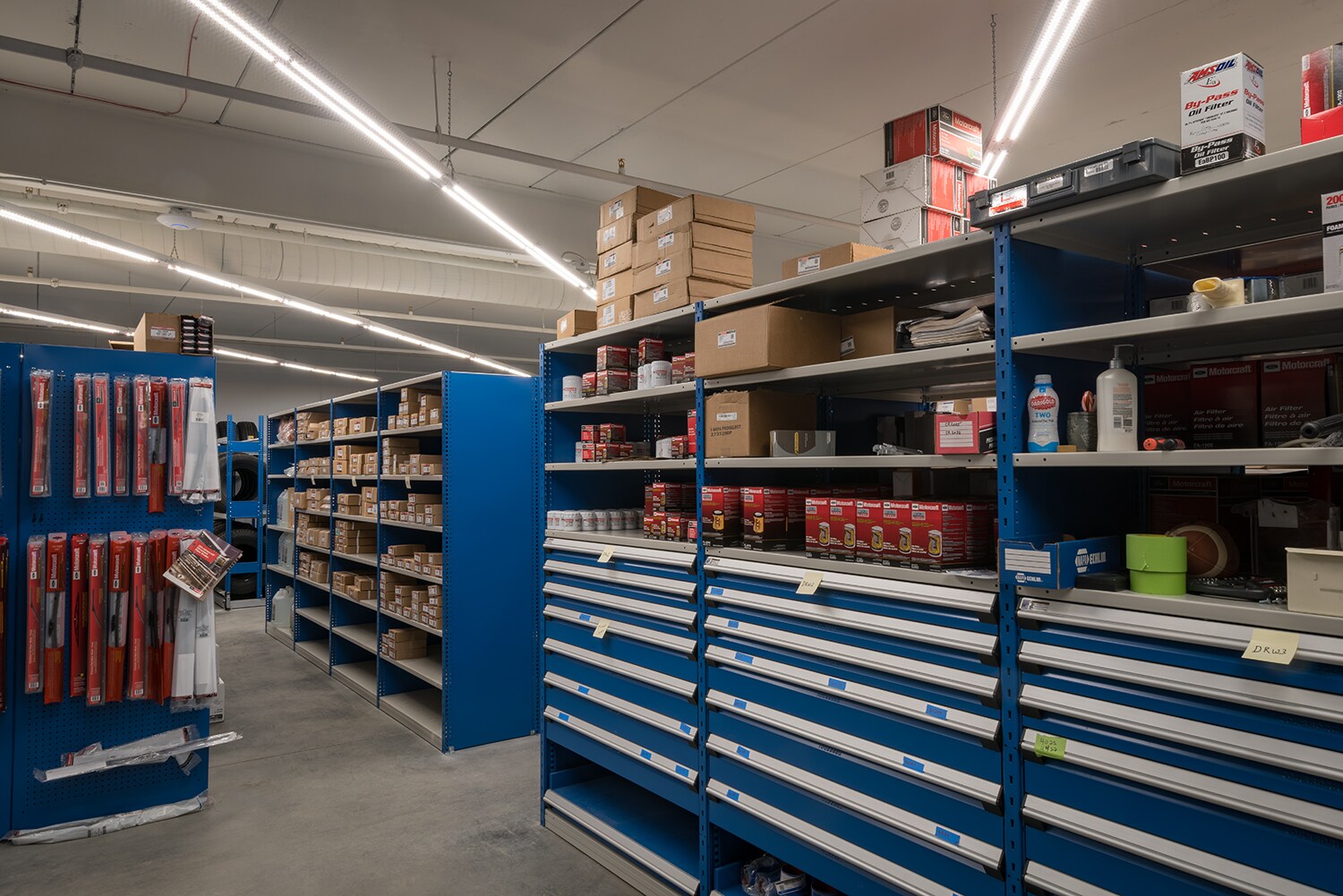 available to you.  With our move our parts department has tripled their square footage to better serve you.  We have a large selection of Motorcraft Parts and Oils, a large selection of tires to meet your needs all best priced at $5 over our cost, and a dedicated accessory department to help you customize your new vehicle from mild to wild!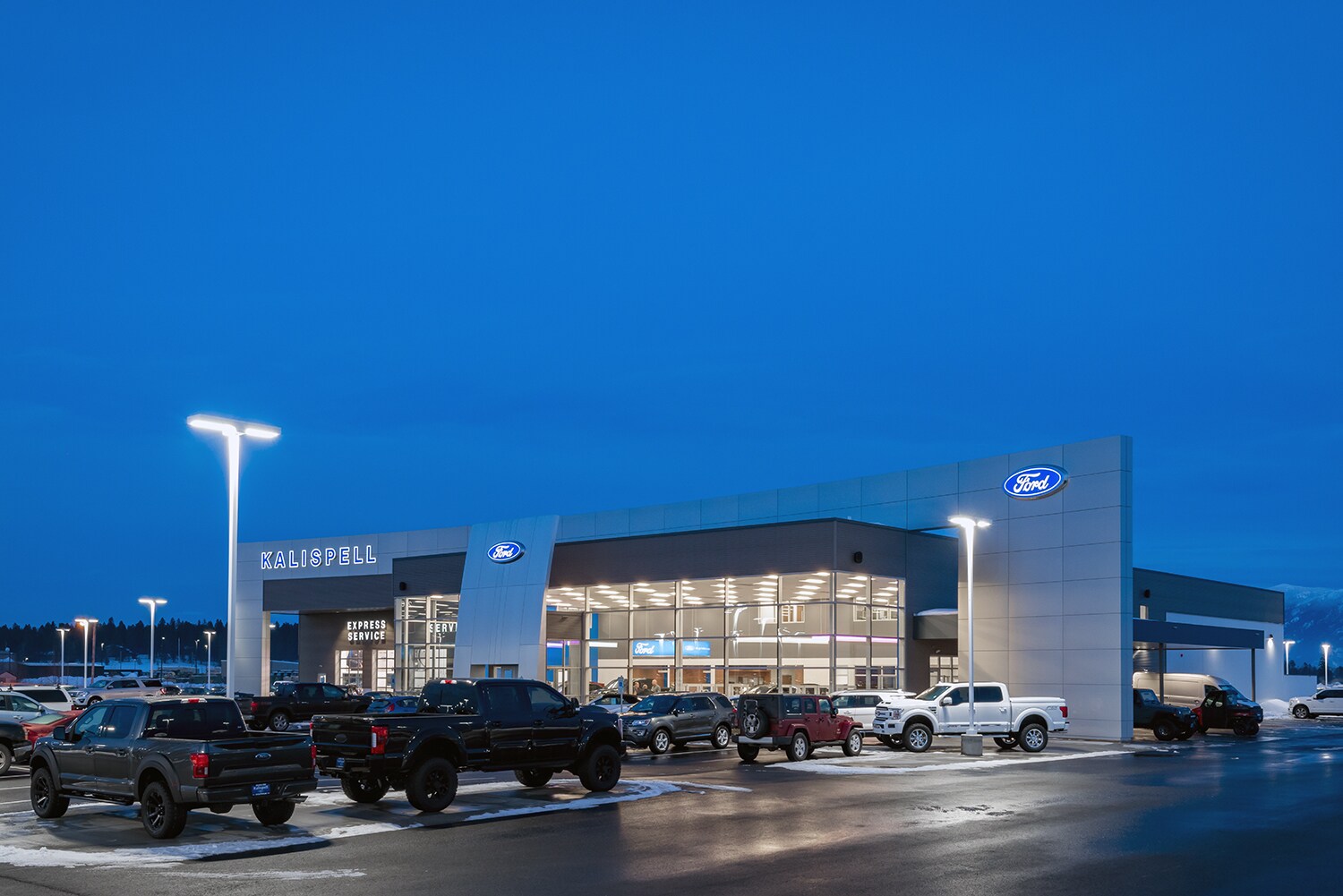 Our sale department is available to help you find your new New Ford vehicle or pre-owned vehicle now.  We feature over 300 new and pre-owned vehicles everyday for you to choose from.  We have an additional 170 pre-owned vehicles to browse from that can be brought to our location from our other dealerships in the Flathead Valley. 
Please let us know how we can help you with all of your vehicle needs!
Background on Kalispell Ford
Kalispell Ford is part of the Rydell Group, a dealer group based out of Grand Forks, North Dakota. Collectively, the Rydell Group currently has over 70 locations--more than 100 franchises with over 2000 employees. These dealerships are located in Montana and 10 other States.
The Rydell Group is recognized as being the largest dealer group in the U.S.. Each dealership operates under a common philosophy but not common ownership. Every Rydell dealership is independently owned while operating under the same business philosophy.
Our parent company was founded by Leonard Rydell (1913-2000), who started in the car business in the 1940's in Montgomery, Minnesota. In 1954 at Chevrolet's request, he moved to Grand Forks, North Dakota to operate the Chevrolet dealership. Leonard had many strongly held business and personal philosophies that served him well. These philosophies, known as "Leonardisms" have been written down, and they guide our group through our daily business and personal decisions.
Along with his love for hunting, fishing, and flying, Leonard was actively involved with the Rydell Group with his son Wes until his passing in April of 2000 at the age of 86. Wes Rydell has been involved in the automotive industry since the early 1960's and has won many awards for his efforts, including being named President of the Chevrolet National Dealer Council.
The unique nature of our organization really is in the way we continue to grow our dealer group. Our vision statement truly demonstrates what our organization is all about:
"To be so effective that we are able to be helpful to others."
Wes Rydell is all about doing just that. Wes is committed to helping every employee reach their fullest potential. Every one of our 70+ current locations is owned and operated by someone who has "grown up" within our organization while learning our operating philosophy. Our dealers have started in a Rydell store at almost every position including detailers, reconditioning department managers, service technicians, parts department managers, finance & insurance department managers, sales consultants, used car managers, and sales managers.
The Rydell Group is the only dealer group in the country to consistently provide the opportunity for its employees to own their own dealership 100%.
Wes Rydell and the Rydell name are recognized by the manufacturers as being an industry leader in customer satisfaction and sales volume. It is the ongoing success in these areas by our individual dealerships that continues to nourish and breed this recognition for the Rydell name, thus providing Rydell the opportunity to help their employees achieve their dreams in the automotive industry.
Brand Promises
1) One low price, plain & simple, always.
Whether you're 18 or 80, you get the same price up front, in writing, every single day.
There is no need for customers to negotiate with us to get our Best Price.
We always have fair prices representing good value.

2) Relaxed shopping experience & consultative sales process.
Relax. Our sales team is here to help you make a wise choice, and they're paid based on how satisfied you are, not on how much you spend.
Our customer-friendly consulting process aims to identify the wants and needs of our customers before we present them our offerings. It is a process designed to educate our customers about the options available to them, so they can make educated automotive decisions.

3) Real cash value for your trade.
You will know what your vehicle is worth before you start to shop. It's based on the current market value of your vehicle and does not depend on which one you want to buy. It is the amount we will pay you for your vehicle, even if you don't buy ours.
We have an interactive appraisal process designed to get our customers the most for their trade up front, without negotiating.

4) The right vehicle at the right time.
With a large inventory and wide variety from which to choose, chances are high we have the right vehicle in stock, priced at the best value for your money.
We offer a large selection of used vehicles, as well as a full line of new vehicles.
All value priced.
5) Affordable financial solutions for today and in the future.
We offer competitive financial services to meet your budget and present you with options. Your choice and your credit history won't change the price of the vehicle.
Our financial services process aims to create the highest value for customers today and in the future. We strive to earn your business for life.
6) You can't buy the wrong vehicle from us.
7 day money back guarantee! Bring it back in the same condition it was in when purchased and get a full refund. No questions asked.
30 day exchange available on select pre-owned vehicles: return your purchase within 30 days and receive the full purchase price towards any other vehicle on our lot.
7) Dependable service to meet your schedule.
Our professional team is here to provide you full maintenance and repair services when you want and need them, including Saturdays and our Express lube.
Our professional service process focuses on customer needs.
More About Our Dealership

Drivers come from all over the area to explore our varied and accommodating selection of new Ford models, including the much-loved Ford F-150, Fusion, Escape, Fiesta, Explorer. Additionally drivers visit us for our equally vast range of high-quality, Whitefish Ford-approved used cars.
It may also very well be the Ford financing offers available to customers who shop with Whitefish Ford. With these auto loan and car lease options, shoppers feel at ease, worry-free, and extra satisfied with their purchase.
Kalispell Ford isn't only a place for those in the market for a new Ford car. We're also the go-to spot for those already behind the wheel. Customers find our car service and maintenance center, also located in Kalispell, Montana, both convenient and competent.
It doesn't stop there-- Kalispell Ford also host an array of services to personalize or enhance your Ford driving experience. Just ask our onsite auto parts and accessories department what we mean.
Still not clear about why so many trust Kalispell Ford for all of their Ford needs? Visit our dealership at 2000 Rose Crossing, Kalispell MT 59901 and find out for yourself!